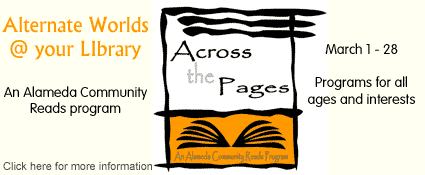 across the page flyer
If you're a fan of science, fantasy, horror or supernatural fiction,you don't want to miss when Aaron Jason, CSUEB Professor of Writing, 20th Century Literature, and Tolkien Studies, speaks on Exploring Alternate Worlds: A History of Speculative Fiction touching on themes, authors, sub-genres and related genres. His talk on March 25th is part of the Alameda Free Library's Community Reads program, "Across the Pages."
Community reads programs encourage the entire community to read the same books and to participate in discussions and programming that focus on the central themes of the books. This is a free event.