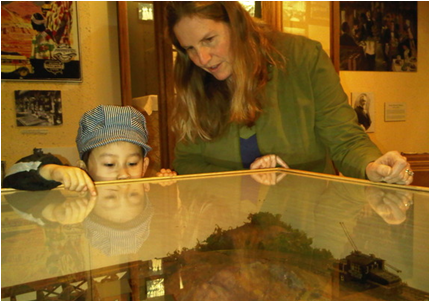 Marjorie Rhodes-Ousley helps Kenji, 4, look at a model railroad display. by: Kristofer Noceda
Bay Area News Group reporter Kristofer Noceda tweeted and twitpicked about the new Cal State East Bay train exhibit. He indicated that a story will follow this weekend.
Dozens of never-before-displayed model trains are included in "All Aboard! The Impact of Trains on American Culture,";  a free exhibition by CSUEB anthropology museum students.
The museum's exhibit hall is in Meiklejohn Hall 4047, on south side of the Hayward campus, 25800 Carlos Bee Blvd. The exhibition is open from 10 a.m. to 4 p.m. Monday through Saturday, March 9 until June 11, except for March 20-28, March 31 and May 29-31.
Noceda covers Cal State East Bay, Chabot College, Castro Valley, San Lorenzo and other unincorporated communities in the greater Hayward area.