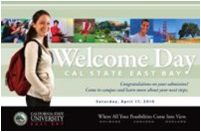 CSUEB 2010 Welcome Day banner
Cal State East Bay Vice President of Planning & Enrollment Management, Linda Dalton served on the CSU task force that proposed the "Early Start" policy. She recently spoke to local reporters about this new program.
The California State University Board of Trustees adopted an "early start" policy to help students be better prepared in mathematics and English when they enter the CSU as incoming freshmen. Beginning in their senior year of high school, students will learn from their results on the Early Assessment Program about whether they are "CSU ready" in math and English.
About 60 percent of first-time freshmen enrolling at the CSU each year do not show entry-level proficiency in these assessments, even though they have earned at least a B average in the required college preparatory curriculum. At Cal State East Bay, 54 percent of incoming freshmen are not proficient in math; 66 percent are not proficient in English.
Dalton told the Oakland Tribune that the focus of the program is to make sure students are well-enough prepared in math and English so they can take college-level courses. "The idea of Early Start is to provide remedial work for those who need it before they start college," she said.
Read entire article, "Cal State plan: Remedial courses before freshman year."