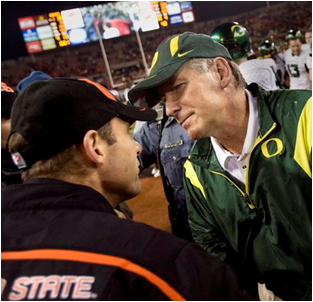 Mike Bellotti '82 starts new ESPN job by: Bruce Ely/The Oregonian
Cal State East Bay alumnus and former offensive coordinator Mike Bellotti '82 recently left his football job at the University of Oregon to become a college football analyst for ESPN television broadcasts.

Bellotti was hired at then Cal State Hayward in 1977 as the offensive coordinator for two seasons. He returned to the school as offensive coordinator in 1980, and remained until 1983. In 1982, he earned a masters degree from the university in physical education.

In an interview with Gary Horowitz from Oregon's Statesman Journal, Bellotti called the ESPN job a "once in a lifetime opportunity." He will provide studio and game analysis across multiple programs and ESPN platforms. He will make his ESPN debut April 17 at 2 p.m. ET on ESPNU's telecast of the Auburn spring football game.
--Kimberly Legocki