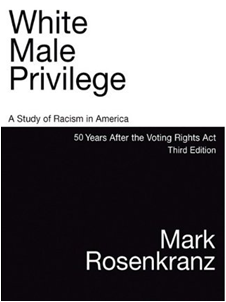 White Male Privilege book cover
Cal State East Bay alumnus Mark Rosenkranz tries to answer that question in his book, White Male Privilege: A Study of Racism in America 50 Years After the Voting Rights Act (Law Dog Books 2009).
Rosenkranz interviewed eight people as he developed the foundations for this book. The author brought these eight individual viewpoints together, and told their story as they relate to American history, from the early days of colonization through the present day.
One of the people he interviewed was Brian Swann, the brother of famous footballer Lynn Swann. Brian shared his story of a racially motivated encounter that he and his brother's had experienced in the 1970's in San Francisco, California, at the hands of the San Francisco Police Department. Each of the eight people interviewed for this book brought with them a different experience and viewpoint as it relates to discrimination and racism in America, and more specifically, white male privilege in America.