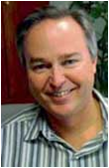 Scott McAdams by: North Bay Business Journal
North Bay Business Journal interviewed CSUEB alumnus Scott McAdams for "Spotlight: Leaders in Commercial Banking." McAdams, regional manager at Mechanics Bank in Napa Valley, started with the bank 30 years ago by rolling coins when he was still in  high school.
He worked as a teller while pursuing a business management degree at CSU Sacramento then completed the management training program at the bank.  McAdams managed several retail branches and after 15 years transferred to corporate banking. The bank helped him earn his MBA at Cal State East Bay.
Read entire interview with Scott McAdams.