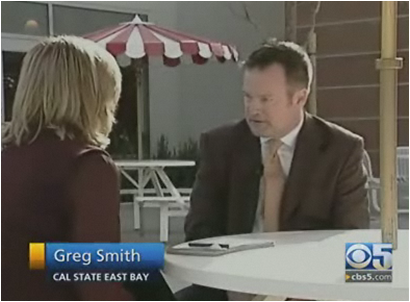 Greg Smith speaks to CBS news
CSUEB's AVP of Enrollment Development & Management Greg Smith speaks to CBS5 reporter/anchor Ann Notarangelo about the growing trend of California students bypassing state schools in favor of the University of Nevada-Reno.
Smith is not concerned about this trend, saying "It has always been the case that some students have gone away to school. This is not something to be afraid of in California."
He does acknowledge that some students are worried when they heard "about classes being cut, deadlines being enforced or it's harder for students to get into college whether at a CSU, UC or a community college." See the entire interview on KCBS5.