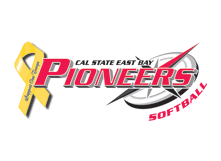 Pioneers logo
The Cal State East Bay softball team is hosting a Support Our Troops event during this weekend's series against Sonoma State. The Pioneers will be accepting donations for Give2theTroops, a nonprofit charity organization which sends letters and care packages to America's armed forces in combat zones around the world.
Give2theTroops accepts donations of both money and items including non-perishable food and drinks, toiletries, entertainment items and more. Boxes for donations will be set up in the spectator area at Pioneer Field on Saturday and monetary donations will also be accepted.
The Pioneers and Seawolves are scheduled to open the series on Friday with a doubleheader at 1 p.m. The two teams will close out the series with another doubleheader on Saturday at noon at Pioneer Field. Cal State East Bay will be collecting donations throughout the weekend.
Find out more about the event and Give2theTroops