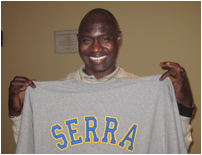 Awiapo by: Antonia Ehlers
SF Examiner recently published a story on Cal State East Bay alumnus, Thomas Awiapo, "Catholic Relief Services speaker shares gripping story about life in Ghana."
In the article, it states that life changed for Thomas Awiapo the day Catholic Relief Services built a school in his small town in Ghana. He decided to attend school only for the snacks, but came to realize that the only way to escape extreme poverty is through education.  Thomas excelled in school and went on to receive a college scholarship in the United States. Later, he received a Master's Degree in administration from California State University, East Bay.

Today, Thomas lives in Ghana with his wife and four children and works for Catholic Relief Services as a keynote speaker. He travels to more than 100 schools in the United States to help children understand the harrowing realities of malnutrition and poverty.  His charisma captivates audiences and his gripping story actually changes the way in which people think about world hunger.
Thomas' rural village in Ghana has changed dramatically since Catholic Relief Services stepped in to help years ago. Today, girls attend school. Farms have been developed to provide meals for school children. Water has been sanitized to prevent serious diseases. 
--Kimberly Legocki