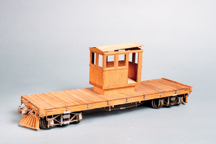 old, wooden, flatbed rail car.
A Wooden Rail Repair Car, circa 1970, scratch built by model train buff and collector Dick Wheeler, and a jaunty red, yellow and green Knapp Trolley, circa 1904-13, await visitors to, "All Aboard! The Impact of Trains on American Culture," a free exhibition in the C.E. Smith Museum of Anthropology on the Hayward campus.
Standing nearby is the "President's Special," an American Flyer 4687 electric box cab with three freight cars, 1927; a Carlisle & Finch Coal Mining Locomotive & Dump Car, 1899-1902; and a bright green Dorfan "Crocodile" Electric Engine with five freight cars (1930).
Train buffs will know the collection from stories in the "Narrow Gauge & Shortline Gazette" and "Train Collectors Quarterly." History buffs will delight in how the exhibition illustrates the development of the transcontinental railroad, and anyone whose been taken by the forlorn cry of a distant train whistle will connect to the charm, and workmanship, of the dozens of tinplate toy trains and HO models shown.
The exhibition opens March 8 and continues Monday-Saturday through June 11 – except for campus breaks and holidays.
--Kimberly Legocki