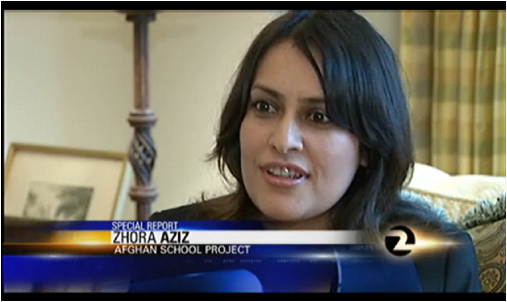 Zhora Aziz
Zhora Aziz has a dream to build a girls' school in her home country of Afghanistan. She told KTVU news, "every little girl is asking for this." Aziz earned a business and finance degree from Cal State East Bay and now works at an accounting firm in Berkeley.
She grew up in the district of Farza, a cluster of 14 villages north of Afghanistan's capital of Kabul. Even though she moved to the bay area at age 12, she said she has never forgotten where she is from. During a visit to Afghanistan in 2006, Aziz said she saw firsthand the devastation caused by 30 years of war and the repressive Taliban regime which refused to let girls go to school.
"It was sad. It was really sad to see it," remembered Aziz. "So many girls they came to me and said 'Oh my God' -- in Farza they were telling me – 'we heard you know how to read and write.' I was like 'Yes.' And they said 'Can you teach us?'"
Aziz bought a ½-acre piece of land with plenty of space to build a 10-room school house for up to 300 girls. She still needs an additional $75,000 to actually build the school. Fundraisers, like the one recently done with Americans for Philanthropy, will hopefully raise the needed monies.
--Kimberly Legocki