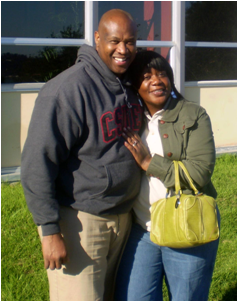 Andre Wilson and his wife Tracy Wilson by CSU
Andre Wilson was a homeless, high school dropout addicted to alcohol and drugs. He said he fought through bleak days until he could find his footing on the road to recovery. 
Along the path to better myself I saw a billboard that read, "Education can transform your life." How true that is. The message inspired me to get back to school, starting with an associate's degree from Berkeley City College. I'm now a student at Cal State East Bay, who understands that education is the means to freedom–economically and socially.
Wilson said his CSUEB degree in human development major with a focus in gerontology has been instrumental in serving the homeless. "I have been able to identify services to get people (especially the elderly) off of the street."
Read Wilson's entire blog on the CSU Voices and Views Web site.
--Kimberly Legocki