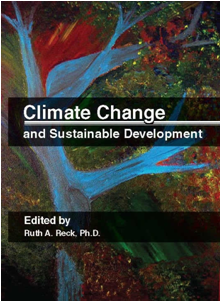 climate change book cover
Chris Kitting, Cal State East Bay professor of biological science, contributed a chapter to a recently published textbook on climate change. Climate Change and Sustainable Development was published in March 2010 by Linton Atlantic Books, Ltd. Kitting's chapter is titled "Broadening Education Toward Environmental Restoration, as Short-Term and Cost-Effective Long-Term Solutions to Global Climate Disruption".
The book explores the impact and related policy implications of climate change on the planet. The need for sustainable development is discussed from many different perspectives. It is presented at the upper level of undergraduate higher education, with ideas on how to use this book in the classroom and questions to help students to review the material.
The book's forty chapters cover many different topics related to climate change and sustainability including biofuels, water resources, endangered plants, Hurricane Katrina, road usage, rainforests, clouds, agriculture, sea levels, mining, legal implications, fishing, education, habitat restoration, rivers and many more. Many tables, figures, diagrams, maps and photographs are included to clarify points of scientific interest.
--Kimberly Legocki