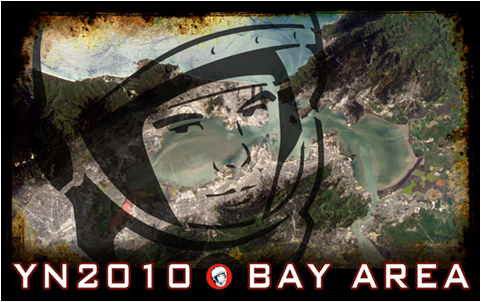 Yuri's Night banner by: ynba.org
Chris Kitting, professor of biological sciences, will participate in Yuri's Night Bay Area on Saturday, April 10th at the NASA Ames Research Center in Mountain View, CA. He will be working at the "Multi-Instrument Airborne Campaign" (MAC) mission area inside the NASA exhibit between 12 noon and 9:00pm. Kitting will have some of his gear and illustrations from prior MAC missions on display. 
"We don't know exactly where we will be, but people can look for a booth with "MAC" and Cal State East Bay logos, 2-foot-wide prints of meteor-like spacecraft reentries through the atmosphere, and sizable tripods used for observation instruments," said Kitting.
Marketed as a "Historic Global Celebration of Science, Sound and Art," Yuri's Night commemorates mankind's first venture into space by Russian Cosmonaut Yuri Gagarin on April 12, 1961, and the launch of the first Space Shuttle by NASA exactly twenty years later. The event was founded by members of the United Nations' Space Generation Forum. This year is also the 75th anniversary of NASA Ames Research Center.