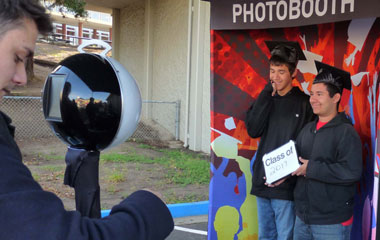 2 guys at the photobooth (by: Barry Zepel)
Several hundred freshman and sophomore students from Hayward and Tennyson high schools were thinking about their college graduations, at least for a moment, as they looked through the course and financial aid offerings during the "Road to College 2010 bus tour sponsored by the California State Universities and AT&T on Thursday, April 22.
The communications company is supporting the CSU Foundation to the tune of $500,000 to bring a bus loaded with computer equipment and other materials that will help the high school students, their parents, and their friends think about, and in most cases, prepare to attend college even while they're midway through completing their requirements to graduate from high school.
The "Road to College" tour has the bus visiting local middle and high schools throughout California. It had stops in Fresno the day before it arrived in Hayward for the visits to Hayward High and Tennyson High. The small crew of staff from the CSU Office of the Chancellor then moved on to San Jose the next day. The CSU staff was joined in Hayward by a contingent of Cal State East Bay outreach staff from the university's Division of Planning and Enrollment Services.
As part of their activity connected to the bus, students participate in interactive, hands-on exploration via Mac laptops as it relates to career interests, majors and courses of study at CSU campuses, campus information and college life, and financial aid and scholarship information.
Goals of the CSU-AT&T Road to College Tour are to increase awareness of the importance of early academic prepration, to increase access for underserved students, and to ultimately build a pipeline of workforce professionals for AT&T and other companies and employers.
The bus tour offers an opportunity to bring in legislators, city and state officials, local dignitaries, alums, celebrities and others to raise awareness and draw media.
--Barry Zepel