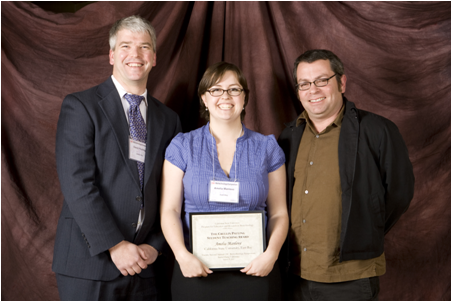 From left to right: David Pauling, Amelia Manlove, and Blake Gillespie
Cal State East Bay's prominent attendance at the 2010 CSU Biotechnology Symposium was reflected in the recently published symposium report (pdf) from the California State University Program for Education and Research in Biotechnology (CSUPERB).
CSUEB highlights include:
Amelia Manlove, a master's student in chemistry who teaches in general and organic chemistry laboratory sections, won the Crellin Pauling Student Teaching Award acknowledging her outstanding contribution in biotechnology-related settings, courses and programs. 
President Mo Qayoumi presented the 2010 Legislator of the Year award to  Representative Michael Honda for his outstanding support of science, technology, engineering  and mathematics education and research, as part of his work on congressional subcommittees and within his home district (15th Congressional District).
Eric Seuss, chair of the statistics and biostatistics  department, is featured in a photograph (page 3) with other CSU faculty members who run biotechnology-related professional science master's programs.
CSUPERB's mission is to develop a professional biotechnology workforce by mobilizing and supporting collaborative CSU student and faculty research, innovating educational practices, and responding to and anticipating the needs of the life science industry.
--Kimberly Legocki