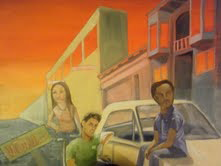 Stylized figures in an urban environment.
Hurray for seniors Melanie Sharr, BFA Traditional Art, and Danghoon Han, multimedia, for having their work selected for the de Young Fine Art Museum's "New Generations: Student Showcase" on Americana Art and Culture: Past and Present Friday, April 16 from 6-8:45 p.m.
Sharr's oil on canvas, "Natoma Street Night," features stylized figures in an urban environment. Donghoon's short video collages clips of the actor Arnold Schwarzenegger, turned governor, blurring the line between reality and artifice. The film, "Watching the Wheels," is posted at YouTube
The two pieces will be among 27 in all that were selected from Bay Area universities, colleges and community-based art centers to depict the unique and distinct essence and spirit of Americana. The exhibition is intended to remind us, in light of our current gloomy economic state, to celebrate the richness of American art and culture, which distinguishes us from other cultures.
Hosted by Melanie and Melorra Green from the African American Art and Culture Complex, the evening includes dance tunes, a special dance performance, a live drawing performance, and a film series in the Koret Auditorium. Visitors are encouraged to dress in chic and funky Americana style.
Admission is free to college students and faculty with ID, $10 adults, $7 seniors, $6 youths (13-17). More information is at: www.deyoungmuseum.org or e-mail cinaba@famsf.org.