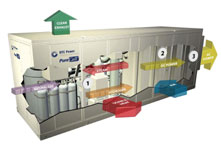 Electric power generator
The California Public Utitliies Commission has approved a fuel cell project of Pacific Gas and Electric Company (PG&E) allowing Cal State East Bay's Hayward campus to become one of the first college campuses in Northern California to have a fuel cell. The announcement was made April 8.
This decision and CSUEB's desire to become home of a fuel cell supports the university's plans to become a center of science, technology, engineering, and math education and a demonstration site for green technology. When he was vice president for administration and finance at Cal State Northridge in the early 2000s, Mohammad H. Qayoumi, now Cal State East Bay president, initiated a similar, award-winning fuel cell project.
A fuel cell will benefit Cal State East Bay by serving as a research and learning tool for students and faculty members. Additionally, the waste heat generated by a cell can be converted into hot water to be used in buildings on campus. As CSUEB's partner in this effort, PG&E will place a $7 million fuel cell paid for by the public utility. It will be located at the northern tip of the campus, occupying a fenced-off space approximately 50 feet by 100 feet and featuring an information kiosk. A date for delivery and installation of the fuel cell, manufactured by FuelCell Energy of Danbury, Conn., has not yet been announced.
The fuel cell is an ultra clean, low emission, quiet, mini-power plant that uses natural gas and water to generate electricity efficiently, according to Jim Zavagno, the university's director of Planning, Design & Construction.
--Kimberly Legocki