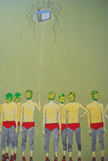 numerous people along the lower edge, a small television tethered near the top edge, on a green background.
"When I Grow Up," a mixed media on three panels by senior Tony Hoang, will be among a dozen traditional art pieces, paintings and sculpture by Traditional  Bachelor of Fine Arts students displayed at the opening reception of the Presidential Scholars Benefit and Awards Gala Saturday, April 10 on campus.
Responding to University Advancement's request to showcase student artwork at the event, Art Professor Grace Munakata coordinated the student exhibition and Hoang will install the work. Both will be present Saturday evening to talk to guests about the pieces.  
Munakata is proud of the high quality and variety of the projects. "The studio faculty who participate in the Traditional Arts BFA critiques get great satisfaction as the students' work becomes more and more sophisticated and relevant to their identities as individual artists. There is a terrific energy to the current group, who work together in and outside class, encourage each other and have  a camaraderie that will last long after they graduate. They are talented and committed, and I'm honored to share their work with the University's supporters at this elegant event," said Munakata.
Other students showing work include Jasmin Marie Alconcher, with "Ember;" Kathleen Bonnar, "Leap of Faith II;" Carol Faber, "C Dragon Diptych;" Melanie Grayrain Sharr, "Nurse to Patient Ratio;" Kenneth Hung, "Untitled;" Zsusanna Laszlo, "Memories of a Glacier;" Pat McCabe, "The Path Not Taken;" Rene Mijares, "ca.edu;" Diane Reilly, "Landscape 3;" Simone Rosenberg, "Dead Man's Bones'" and Michael Wallace, "Flow."
While the exhibition is limited to the Gala, other pieces by these students are being shown through April 22 in the Annual BFA Exhibition open from 12:30-3:30 p.m. Monday-Thursday in the University Art Gallery, in the Art and Education Building.