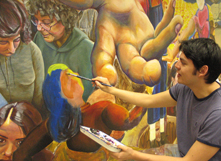 Artist painting colorful wall mural (by: Diane Daniel)
This week, Cal State East Bay joins schools and cities across the country to celebrate the 58th annual National Library Week (April 11-17). To mark the occasion, the University Library on the Hayward Campus will unveil a new diversity-themed mural (read the full story) at a dedication ceremony at 2 p.m. Wednesday.
"Education Has Voice," a 10-foot by 30-foot painting, was created by alumnus Luis "Che" Andrade '09, with help from art students Pat McCabe, Carol Faber, Kathleen Bonnar, Rene Mijares, and Leslie Becerra, as well as Yulian Nuñez from Chabot College. The dedication is open to the public.
But that's not all — as part of the festivities, this week only, University Library patrons can enjoy amnesty on some of their fines. Certain restrictions apply — LINK+, ICS laptops, billing fees, processing fees, and lost/damaged material fees must be paid — but if you've been worried about what you owe, you might be pleasantly surprised. The offer applies through April 17, so come in soon!