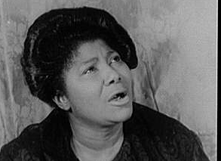 Mahalia Jackson focus of summer performance.
Love to sing? You may be in for the role of a lifetime.
Strong vocalists/performers are sought for "Halie! A Celebration," a new musical-theater piece based on the life and legacy of Gospel singer Mahalia Jackson, set to perform July 29-31 and Aug. 1 on the Hayward campus.
Needed are the likes Elvis Presley, Little Richard, Curtis Mayfield or Sam Cook, and Lou Rawls to comprise the Gospel quartet that will vocally narrate the show with many Mahalia's classics, and females good at harmony for the women's chorus.
Auditions will be from 2-4 p.m. Saturday, May 1 in the University Theatre, 25800 Carlos Bee Blvd., Hayward. Rehearsals will begin June 28 under the direction of Darryl V. Jones, associate professor of theatre and dance.
The production will cover the "Queen of Gospel Music's" epic rise from humble roots in New Orleans, her early days as a Chicago church singer, and the pinnacle of her career when she was everywhere: in music, television, on film, and a political speaker. 
"Halie!" will be a feel-good event that inspires the soul and ignites a spirit of faith in a better tomorrow. 
To learn more about auditions, contact darryl.jones@csueastbay.edu or call him at 510-885-3926.
DD