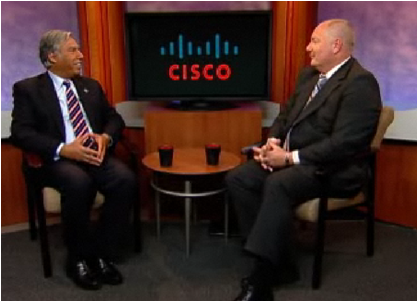 President Mo Qayoumi and Dr. Greg Mathison, Global Solutions Manager at Cisco
President Mo Qayoumi spoke today (April 28th) at the Online Cisco Virtual Forum for Education Leaders. The event theme was The Connected Learning Society: Inspire, Engage, and Empower . In his presentation titled, "Fusing Tradition and Transformation to Achieve a Learning Society", Qayoumi discussed how 21st century technology provides a platform for creating a learning society.
"Higher education has a tremendous opportunity to look at the current landscape and evaluate how to change its approach," said Qayoumi.
He said that higher education should concentrate on three approaches:
How to use new teaching and learning methodologies
How to accommodate a wider mixture of learning providers
How to remove barriers between formal education and informal learning
His presentation in the higher education breakout session may be viewed on-demand through August 28, 2010.
--Kimberly Legocki