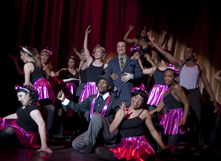 A scene from the winter production of "Chicago."
Placement auditions for participation in the Cal State Eat Bay 2010-11 Musical Theatre Program will be conducted at 4 p.m. Thursday, May 20 in the University Theatre, 25800 Carlos Bee Blvd., Hayward.
The auditions are for all in-coming freshmen and transfer students who wish to attain a BA in Theatre with a Musical Theatre Option. Students wishing to take musical theatre classes, but not major in musical theatre, are also encouraged to attend, as class space is limited.
Interested?
Prepare two contrasting songs, one up tempo, one a ballad, from musical theatre repertoire, bring your sheet music in the key in which you will sing the songs.
Those unable to attend may submit an audition DVD to be viewed the first week of fall quarter.
Questions? Contact Darryl V. Jones, associate professor of theatre and dance, at darryl.jones@csueastbay.edu or call him at 510-885-3926.