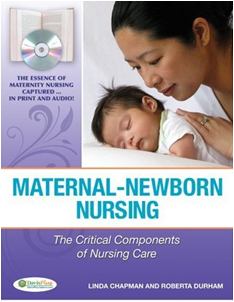 book cover
Cal State East Bay Nursing Professor Roberta Durham recently published an innovative new textbook addressing the current reality of maternity care. Maternal-Newborn Nursing: The Critical Components of Nursing Care (F. A. Davis Company) highlights evidence based nursing care strategies and national standards of maternity nursing practice not found in other nursing text books.
Existing maternity nursing textbooks are not designed for today's approach to nursing education. The nursing shortage has resulted in the widespread development and expansion of nursing programs.  Many nursing programs, which can be as short as 12 months in length, typically teach maternity nursing in a compact and/or abbreviated format.  Faculty members are challenged to develop courses with fewer credit units that are taught in 5 weeks or less.  
Durham proudly points out that three undergraduate nursing graduates - Mabel Choy-Bland, Deanna Luz Reyes Delgado and Stefanie Hahn - from Cal State East Bay also contributed to the book.
--Kimberly Legocki