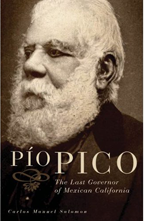 Carlos Salomon's book looks at life of Pio Pico.
Congrats to Ethnic Studies Assistant Professor Carlos Salomon on the new book, "Pío Pico, The Last Governor of Mexican California," which will be published May 14, 2010.
The volume is being promoted as the first biography of a politically savvy Californio who straddled three eras and whose life vibrantly illustrates the opportunities and risks faced by Mexican Americans in those transitional years.
"I wrote about Pio Pico because his life is an important reminder of our state's multi-cultural past; because Pico fought to preserve the legacy of his people and because his story brings to life the trauma California suffered in the 19th century as it passed from Native American, to Spanish, Mexican, and finally US control," said Salomon.
Kevin Starr, professor of History at the University of Southern California, writes, "Thanks to this expertly researched and vividly written biography by a next-generation historian making a stunning debut, Pío Pico now emerges into full historical perspective as a pivotal and representative figure in the transition of California from Mexican province to American state."
Two-time governor of Alta California and prominent businessman after the U.S. annexation, Pío de Jesus Pico was a politically savvy Californio who thrived in both the Mexican and the American periods. His name still resonates in many Southern California locales, and his story offers a new view of California history that anticipates a new perspective on the multicultural fabric of the state.
--Kimberly Legocki