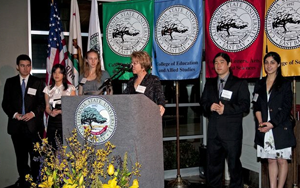 students receiving awards at podium. by Keith Lewis Photography
April was a big month for student scholarships at Cal State East Bay, with both the African American Faculty and Staff Association Scholarship Dinner and the Presidential Scholars Benefit gala bringing out supporters and recognizing student achievement. The University would like to thank all who contributed, attended, and organized these wonderful evenings.
The theme was "Lights! Camera! Action!" for the 7th Annual Cal State East Bay African American Faculty and Staff Association Scholarship Dinner on Friday, April 2. The association awarded a record $12,000 in scholarships among 10 students after everyone at the event was serenaded with several tunes by the cast of the Cal State East Bay production of "Chicago."
Those in attendance were also entertained with a medley of songs from the show "Sophisticated Ladies" by a chorus of CSUEB Theatre and Dance students.
Ten scholarships, each worth $1,200, were presented to Shirlinda Acker, Angelica Edwards, William Gaines, Debbie Giron, Brandy Hendricks, Jenny Le, Kimhong Nguyen, Miledrea Stubbs, Brentston Taylor, and Tyra Woods.
More than $40,000 in scholarship support has been awarded by the African American Faculty and Staff Association in the event's seven year history.
The 2010 Presidential Scholars Benefit, held Saturday, April 10, was the first of the gala events to be held at the University rather than off-site. The dining commons at Pioneer Heights was completely transformed to create a festive environment for dinner and dancing.
Organizer Eileen Mello of University Advancement said "Everyone was very enthusiastic about having it here on campus." The weather stayed clear enough for guests to enjoy the view overlooking the bay and the Oakland and San Francisco skylines.
The gala raises money for Presidential Scholarship awards and is an opportunity to honor the recipients. This year, seven students were recognized at the ceremony: Spenser Babyak, Ferdinand Garcia, Melissa Lau, Anna Le, Amanda Menne, Timothy Sakogawa, and Sara Sarvi.
The gala is also a family affair. Alumnus of the Year Patrick Devine was joined by his family -- including several from his native Ireland. Many of the students attended with their parents, some of whom thanked Mello for the event. "I think they were really touched by the recognition of their children," she added.
Special thanks to the student artists whose works helped turn the dining commons into a gallery, to the student performers from the music department and department of theatre and dance who shared their talents, and to Keith Lewis Photography for capturing the evening.