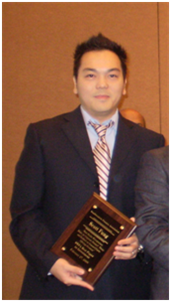 man holding award
Cal State East Bay Accounting and Finance Assistant Professor Scott Fung has been on a whirlwind presenting his research at prestigious finance associations.
He submitted his paper, "A Tale of Two Cities: The Nexus between Options Market and Firm-level Characteristics and Performances" (pdf) to the 50th Annual Southwestern Finance Association (SWFA) in Houston, Texas a few weeks ago.  This is the same conference where Fung won the 2009 Best Paper in Investments Award for his paper co-authored with William Cheung and Lewis Tam from the University of Macau,  "Does Market Microstructure Matter for Corporate Finance? Theory and Evidence on Seasoned Equity Offerings Decisions" (pdf).  SWFA fosters the development of scientific and literary works in finance and strives to improve the teaching of finance.
Fung had presented both papers previously at the Financial Management Association International (FMA) annual meeting in October 2009. The latter paper was featured in a "TOP SESSION" at FMA.
CSUEB Assistant Professor of Accounting and Finance Eric Fricke presented a third paper authored with Fung at FMA, "Capital Investment Growth and Economic Risk Factors" (pdf). FMA is the global leader in developing and disseminating knowledge about financial decision making.