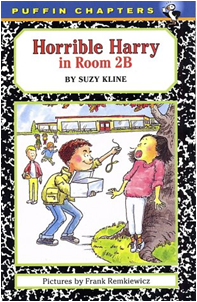 book cover
Parents of elementary school children may be reading stories written by Cal State East Bay alumna Suzy Kline.  Kline is the author of several award-winning book series featuring realistic characters like third grader Herbie Jones, second grade stutterer Mary Marony, a basketball-crazy middle schooler who goes by the nickname "Orp," and Horrible Harry the rambunctious imp of room 2-B.
After earning her standard elementary credential from then Cal State Hayward in 1967, she taught elementary school for 25 years in Richmond, CA and Torrington, CT.  Most of her books are based on the experiences she had while teaching.  Critics have consistently complimented Kline's books as stories that would genuinely fit into an everyday classroom setting.
"I think I could go on forever writing about Herbie Jones and Horrible Harry and Song Lee," Kline said in an interview with Something about the Author (SATA). "To me, these series are about family, friendships, and the classroom, three things that are so close to my heart."
Visit Kline's Web site for more information and a complete list of her books.