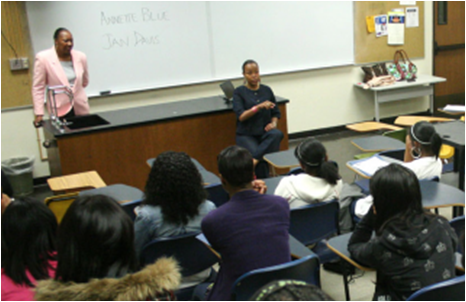 Chief Davis speaks to middle and high school girls at "Stepping Up for Peace" by: oaklandnorth.net
University Police Chief Jan Davis re-enforced personal responsibility with middle and high school girls during a workshop on women in leadership, "Stepping Up For Peace: Youth Empowerment Conference". The event was co-sponsored by the Criminal Justice Department at Merritt College and the Oakland Police Activities League (PAL), a non-profit organization that aims to forge a relationship between kids and cops.
"Choose the people you hang out with very carefully," Davis said.  "Be a leader, make your own decisions so you can recognize that the decisions you are making right now could impact your future."
She also answered questions about being both a police officer and a leader in a male-dominated field.  Oakland North reported that "one young woman raised her hand to ask if it was still possible to get a career in law enforcement if they had made some mistakes in their past.  Davis assured her it was still possible, as long as they were up-front and honest about it, and could demonstrate they had learned from their mistakes. She advised those interested in law enforcement to start making good decisions right now."
Davis said, "It was a powerful event and very well put together.  I am extremely proud of the job my former colleague, (Retired) Officer Margaret Dixon, did [as event coordinator]!"
KL