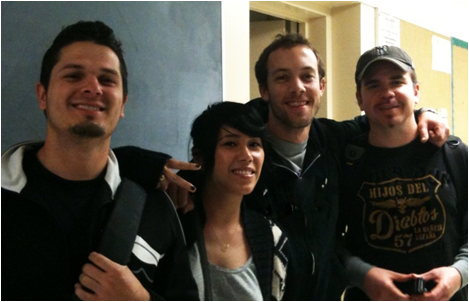 from left to right: CSUEB grad students Mustafa Ebrahimi, Krys Simon, Aric Johnson, and Matt McLean
Cal State East Bay graduate students Krys Simon, Aric Johnson, Mustafa Ebahimi, and Music graduate student Matt McLean have created a music game inspired by the mystical spirit, Kokopelli. It allows the user to play Kokopelli's special songs with a magical flute to activate game play. Users learn about the legendary story, meet Kokopelli's animal friends, and help them reunite. The game was originally designed for their "Interactivity with Sound & Music II" class in winter 2010.
 
They are showcasing their invention at the Maker Faire in San Mateo on May 22 -23. Estimated 2010 attendance is 160,000.
Other CSUEB multimedia student groups will be exhibiting "Labyrinth Adventure" and "Kimono Monsters".
Maker Faire, sponsored by Make magazine, is the world's largest two-day do-it-yourself (DIY) festival featuring hundreds of innovators in the areas of arts & crafts, science & engineering, robotics, and sustainable living. CBS Sunday Morning described the event, "The Maker Faire invites people to experience the work of artists, inventors, tinkerers and hackers from all over the country — people who don't just think out of the box, the things they think up never came in a box." 
KL