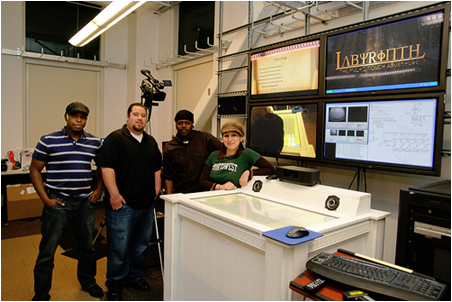 from left to right, CSUEB students Allister Willems, Donald Torrez, Kwame Oucho, and Ozge Unsal Gascho in front of "Labyrinth Adventure"
Cal State East Bay graduate students Allister Willems, Donald Torrez, Kwame Oucho, and Ozge Unsal Gascho will be attending Maker Faire this weekend to exhibit, "Labyrinth Adventure", an interactive game they created based on the ancient Greek myth of the labyrinth and the Minotaur.
Created for their multimedia graduate program and built on a 42-inch multi-touch platform, the user plays the role of Theseus making his way through the labyrinth to ultimately kill the Minotaur. Throughout the game a user faces multiple 'mini game' challenges in which they will use different touch gestures to complete each level. Interactivity in, and within the game is an important aspect of the exhibit and the designers are anxious to see how effectively their designs are executed by Faire participants.
"We are attending the Maker Faire primarily for two reasons," said Kwame Oucho, "To give exposure to our research work and to showcase what the Cal State East Bay multimedia graduate program entails. Maker Faire is an ideal platform to meet and interact with people who have similar interests and ideas."
Other CSUEB multimedia student groups will be exhibiting "The Ballad of Kokopelli" and "Kimono Monsters".
Maker Faire will be held in San Mateo on May 22 -23 with an estimated attendance expected of 160,000. Maker Faire, sponsored by Make magazine, is the world's largest two-day do-it-yourself (DIY) festival featuring hundreds of innovators in the areas of arts & crafts, science & engineering, robotics, and sustainable living. 
KL