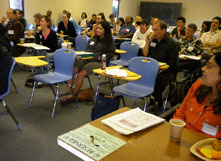 workshop
More than 45 faculty members, administrators and future teachers from four community colleges in Cal State East Bay's service area participated in the Noyce Scholars second annual Diversity in Teaching Workshop on CSUEB's Hayward Campus April 24.
The Noyce Scholarship Program is designed to increase the number of qualified math and science teachers obtaining their credential at CSUEB and going on to serve at high needs schools.
In addition to CSUEB, the participants came from Chabot, Contra Costa, Diablo Valley, and Ohlone. 
The primary goals of this event were to provide participants with:
* A greater awareness of the Bay Area by identifying the communities in which future teachers will serve;
* Meaningful dialogue regarding issues of culture, race and ethnicity;
* An opportunity to ask questions of current teachers, parents, students, and administrators about their experiences;
* Tools, techniques, strategies, and resources for continued exploration and support;
The Diversity Workshop Committee coordinators included: Robyn Fisher and Monique August (R.T. Fisher Educational Enterprises and Southern Alameda County Regional Educational Alliance; Kathy Hann, director, NOYCE Scholars Program; David Stronck, co-director, Noyce Scholars Program; Claudia Ramirez-Wiedeman, assistant professor, CSUEB Teacher Education; and Claudia Quezada, coordinator of Bachelor's Plus Early Pathway Program. 
CQ and KH