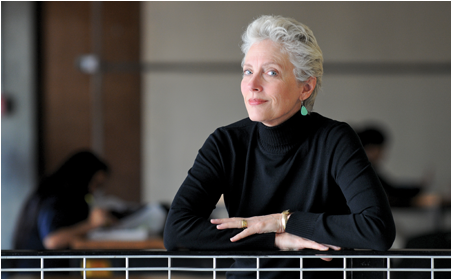 Jennifer Wolch
Jennifer Wolch '75, '76, an urban planning scholar and advocate for sustainable urbanism, in July became dean of the College of Environmental Design at University of California, Berkeley. It is considered one of the most important and influential integrated architecture, landscape architecture, and urban planning schools in the nation.
Wolch grew up in Castro Valley, attended public schools, and graduated from Canyon High School. "I went to Chabot Community College in between my graduation from high school and starting Cal State," she explains. "I had a class in anthropology that was interesting and intriguing and exciting, and I said, 'I want to be an anthropologist!' As is the case for so many kids, I got a great teacher and found what I wanted to do." She enrolled at then–California State University, Hayward as an anthropology major, focusing on physical anthropology.   "I was so impatient to do work in anthropology that I pretty much took my major courses first," Wolch recalls with a smile.
Her undergraduate experience at Cal State East Bay was "terrific," she says: "The department had an excellent faculty, and it wasn't so big that we didn't get lots of personal attention. I worked directly with faculty on research projects." She stayed at CSUEB for a master's degree in geography, and began integrating anthropological concepts of social justice into the science of geography.  She completed a Ph.D. in urban planning at Princeton University.
Read the entire article, "Dean of Green", in the spring issue of Cal State East Bay magazine.

KL