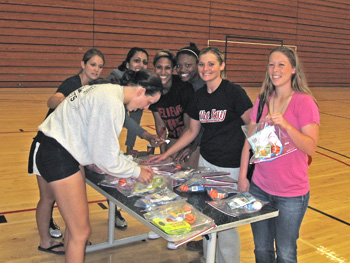 Pioneer student-athletes assemble care packages for patients at Children's Hospital in Oakland. (by: Dawn Ellerbe)
After a successful first year competing at the NCAA Division II level, Cal State East Bay's student-athletes took some time to give back to the community this May. The Pioneer Student-Athlete Advisory Council (SAAC) gathered on May 12 to assemble care packages for patients at the Children's Hospital in Oakland. SAAC from each of the Pioneer sports collected money from their teammates to buy coloring books, crayons, stickers, puzzles and other activities for the care packages. The event offered student-athletes a chance to take time out of their busy shedules to make a difference for the many children being treated at Children's.
Children's Hospital and Research Center Oakland is Northern California's only independent children's hospital and has been serving the children and families of the Bay Area for more than 95 years. The hospital houses over 190 beds, the area's busiest pediatric intensive care unit and pediatric trauma center, and is home to one of the world's largest sickle cell treatment and research centers.
Read more about the SAAC care package event in the May 13 issue of The Pioneer Newspaper. Find out more about Children's Hospital in Oakland.
KH