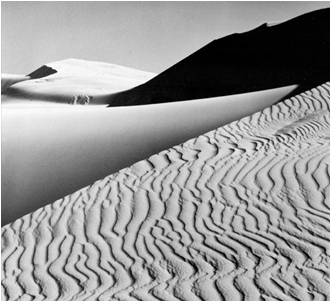 A print of "Dunes, Oceano, California"
After arriving at Cal State East Bay in fall 2008 to assume the job of University librarian, Linda Dobb set out to explore the treasures held in the library's special collections. Among letters by 20th-century newspaper columnist H.L. Mencken, samples of Beat poetry, a set of 1865 Horatio Alger novels, and a Latin mass from the 1490s, she also found unexpected gems touched by Ansel Adams' own hand.
"When I came here, I saw this piece of paper that said we had an Ansel Adams portfolio," she says. "The book was sold in copies of 250. Our set happens to be copy No. 113."
Dobb soon tracked down the folio, What Majestic Word, published in 1963 by the Sierra Club, an organization Adams served as a board member for nearly 40 years. The folio contains 15 18-inch by 14-inch prints made by Adams from his original negatives. Today, the prints — stored carefully in five archival boxes — are kept in the oak-paneled Erickson Special Collections Room and are available for students and scholars to study by appointment.
Find out more about Cal State East Bay's hidden treasure in the spring issue of Cal State East Bay magazine.
KL