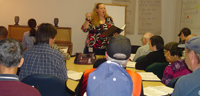 Ava Scofield leads an Aphasia Choir rehearsal.
Come hear The Aphasia Tones perform their second concert of popular music from 2:30-3:30 p.m. June 2 in MB 1587. 
The program will begin with a screening of, "It's Still Me," a 20-minute educational film, set to original music, promoting aphasia awareness.
The 20-member choral group, lead by Ellen Bernstein-Ellis, Aphasia Treatment Program director, and accompanied by music students, will perform, "Dock of the Bay," "Under the Boardwalk," "I Can See Clearly Now," "Imagine," "A Beatles Medley," and "They Can't Take That Away From Me."
Everyone is welcome. Admission will be free, but donations will be accepted at the door. 
For information, contact Bernstein-Ellis at ellen.bernstein-ellis@csueastbay.edu
DD