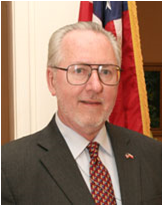 Edward Kulakowski by: ucla.edu
Edward Kulakowski will be the guest speaker at the Cal State East Bay Political Science Club meeting on Wednesday, May 5th.  Kulakowski s a Senior Foreign Service Officer with the Department of State and is currently serving as the Counselor for Press and Culture at the U.S. Embassy in Warsaw, Poland.
He previously served as Cultural Attaché in Moscow, Russia (two tours); Public Affairs Officer in Bishkek, Kyrgyzstan; America House Director in Yerevan, Armenia; and with the U.S. Information Agency's (USIA) Voice of America and Exhibits Service in Washington D.C. Kulakowski was initially recruited from Honolulu, Hawaii by USIA in 1978 to serve as an Exhibit Guide on a U.S. exhibition in the Soviet Union. He received BA (1971) and MA (1973) degrees in Russian and Russian/Soviet Areas Studies from the University of Hawaii and was an exchange student at Leningrad State University in 1973-74.
Discussion will take place in the Bayview Room of the New University Union from 3:00pm-5:00pm.
KL