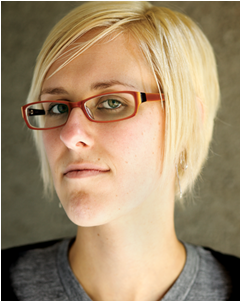 Elysse Grossi '08
Student environmentalist Elysse Grossi '08 is one of a growing number of Cal State East Bay students working to put the environment at the top of University priorities through club events, academic pursuits, and student leadership activities.
"One of the reasons I chose CSUEB for my undergraduate education was our ongoing dedication to sustainability," Grossi says. "I thought I would feel at home on a campus that uses solar energy and sustainable landscaping."
Now as a graduate student studying cell and molecular biology and a full-time outreach coordinator for CSUEB Student Health Services, Grossi continues her drive to make Cal State East Bay a greener place. 
Grossi's current projects include collaborating with Associated Students Inc. and the Marin Agricultural Institute to bring a farmers market to campus starting spring quarter. Additionally, she is working with Student Health Services to make the department as paperless as possible by moving medical records, appointment schedules, and resource materials online.
Read the rest of the article in the spring issue of Cal State East Bay magazine.
KL