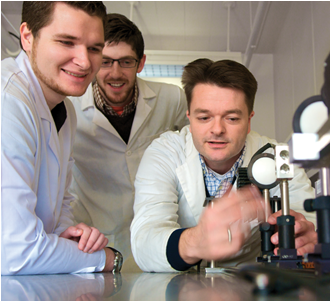 CSUEB students Trevor Billings, from left, and Keith Penney work in the lab alongside Assistant Professor Erik Helgren
One physics faculty member's efforts to engineer a more efficient solar energy cell are also creating well-prepared future scientists among students at Cal State East Bay.
"The type of research I wanted to pursue, in particular the renewable energy materials research, is ideally suited for incorporating undergraduates as part of the research plan," Assistant Professor or Physics Erik Helgren says.
Instead of continuing research on silicon solar cells — which make up 95 percent of solar cells used commercially — Helgren is looking at organic polymers as an alternative to the widely-produced silicon cells. While silicon cells, the same type used in computer chips, have been most efficient at converting energy from the sun, the cells are expensive to produce and are not flexible, causing breaks in the cells. Organic polymers, including the P3HT Helgren works with, are cheaper to construct and are more malleable.
Read the entire article, "Shedding new light on solar cells", in the spring issue of Cal State East Bay magazine. 
KL