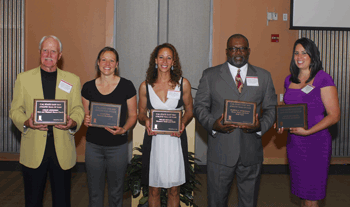 Five 2010 Athletic Hall of Fame Inductees were in attendance (L to R): Colin Lindores, Leah Pero, Miloe McCall, Darryl Robinson and Angel Alcorcha. (by: Lee Stidham)
The Cal State East Bay Athletic Department celebrated its past and present on May 15, inducting six new members into the Athletic Hall of Fame during a ceremony at the New University Union. The event was a huge success as former women's volleyball and softball player Angel Alcorcha, former women's basketball player Leah Pero, former track and field athletes Miloe McCall and Darryl Robinson, former baseball player Archie Gilbert and former men's and women's soccer Head Coach Colin Lindores became the newest members of the Hall of Fame.
The night saw the over 100 in attendance honor the 2010 Hall of Fame class and special honorees, the 1988 NCAA Division II National Championship women's soccer team, while celebrating their contributions to Pioneer Athletics. Each inductee was presented with a plaque which matches those hanging in the Hall of Fame, located in the foyer of Pioneer Gymnasium. Find out more about this year's inductees or check out photos of the event.
KH