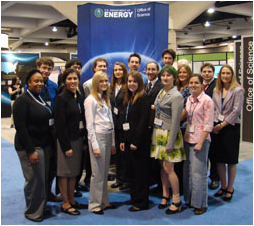 DOE intern presenters by: Shannon Dunphy
Department of Energy (DOE) student interns, including Cal State East Bay's Joanne Osburn, presented their Department of Energy-related research at the annual American Association for the Advancement of Science (AAAS) meeting held recently in San Diego, Calif.
Osburn, a CSUEB student studying biology and chemistry, conducted her research at Lawrence Livermore National Laboratory. "I developed a new statistical model to determine the source of a pathogen," said Osburn. In her study, Osburn used data from a well-documented transmission of the HIV virus by a dentist in Florida. "The goal [of my project] is to have a quantitative method [to track a pathogen], such as in the case of bio-terror."
All 18 student presenters participated in 2009 internships through the Science Undergraduate Laboratory Internship (SULI) and the Faculty and Student Teams (FaST). They were selected to present based upon their final internship reports, similar to a journal-quality scientific paper, a requirement of many DOE internship programs.
Read U.S. Department of Energy press release.
KL