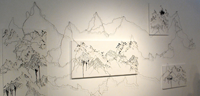 art
Congratulations to the participants in this year's Annual Juried Student Art Exhibition, which opened Tuesday and continues through June 3. Doors are open 12:30-3:30 p.m. Mondays-Thursdays (except Memorial Day) at the University Art Gallery in the Art and Education Building, 25800 Carlos Bee Blvd., Hayward. Admission is free.
Zsuzsanna Laszlo's "Memories of a Glacier," a mixed media wall piece, received three awards. The Slatoff Trust Awards  - established by emeritus faculty Howard Slatoff – went to Kenneth Hung for, "Untitled Again," a charcoal and paint on canvas; and to Justin Reece for. "Drafted," a Van Dyke print on watercolor paper.
The Hayward Arts Council recognized Paolo Mejia's sculpture, "Spoonful of Eggoism," and Linda Soules' acrylic on canvas, "Sky and Dakota;" and the Friends of the Arts award went to Rene Mijares, for, "Choices (A & B)," a mixed media painting.
Maria Medua, director of the San Francisco Museum of Modern Art Artists Gallery,  juried the show and selected 22 pieces from more than 100 entries. 
The names of all recognized pieces are at: 2010 winners
DD