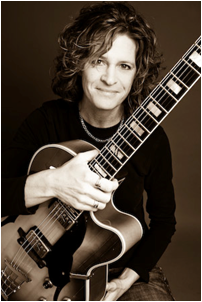 Michele Korb
When she's not teaching future educators how to engage the classroom, she engages her own audience with jazz music. Cal State East Bay Assistant Professor of Teacher Education Michele Korb will be showcasing her musical talent over the next few weekends at Park Avenue Bar and Grill in Oakland, CA.
"I started playing guitar at age 8 with my mom. She was a music teacher and church musician," said Korb.  "For several years, I played in a jazz quartet called Metafour Jazz." 
Curious about her music? Then check out Korb singing "The More I See You" and "I Thought About You" on metafourjazz.  She has two contemporary Christian CDs - "Passageways" (1995) and "Almost Me" (1998) - and just released a jazz CD with Tom Theabo called "Ab Origine" (2009).
Catch one of Korb's upcoming performances:
Friday May 21 - 7:00pm- 10:00pm
Sunday June 6 - 11:30am - 1:30pm (summer brunch)
Friday June 25 - 7:00pm- 10:00pm
KL