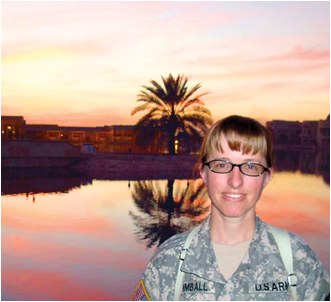 A major in the U.S. Army, Mindy Kimball recently completed a one-year tour of duty in Iraq. By: Mindy Kimball
Mindy Kimball '05 earned a master's degree in geology at California State University, East Bay. Her studies at the University helped convince her that global warming presents a real peril.
Since then, the 35-year-old has blended a career as an Army officer with speaking engagements as a representative of The Climate Project, an advocacy group founded by former vice president Al Gore. In addition, a photo Kimball took in the Death Valley desert while on a Cal State East Bay field trip has been included in a new print and online book Thoreau's Legacy: American Stories about Global Warming.
Read the entire article and view Kimball's photograph in the spring issue of Cal State East Bay magazine.
KL