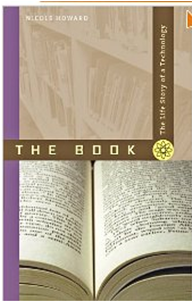 "The Book" written by History Professor Nicole Howard has been re-issued as a paperback.
 The Book: The Life Story of a Technology from Associate Professor of History Nicole Howard has been re-issued in paperback form by The Johns Hopkins University Press.  This title was originally published in 2005 as a hardback by Greenwood Press. It was also issued with a Korean translation in 2007.
In The Book, Howard surveys the development of book printing technology around the world, from clay tablets to the laptop, demonstrating how important the book has been in human history. She describes the technologies behind books, such as ink mixing, paper making, and casting of type, and related sciences of metallurgy, chemistry, and mechanics.
"The book is arguably the one technology that has made all others possible... What Howard does is provide an exceedingly accessible retelling of the book's life story, one that shows precisely how books represent a peak of technology, giving permanence and form to ideas and relevance and resonance to their readers." -- Libraries & the Cultural Record
KL