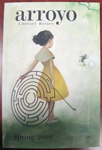 2009 "Arroyo Literary Review" Book cover
Patty Seyburn's poem, "The Case for Free Will," published in the inaugural issue of CSUEB's "The Arroyo Literary Review," has just been awarded the much-coveted "Pushcart Prize" and will be included in the anthology, "The Pushcart Prize XXXV: Best of the Small Presses (2011)." 
"The 'Pushcart Prize' annually honors the work of the best writers to be found in today's literary magazines, and by implication, also honors the editors who published them. Since the Spring 2009 issue of 'Arroyo' was our maiden effort, this prize is especially noteworthy," said Susan Gubernat, English associate professor and "Arroyo" advisor.
Eric Neuenfeldt, MA '09 English thesis, who edited the first "Arroyo," and is now pursuing a MFA on fellowship at Oklahoma State University, is also delighted.
"I am thrilled that Patty and 'Arroyo' received such a prestigious honor. This award is further evidence that 'Arroyo' has quickly established itself as a fixture of the English Department and the University. Patty's Pushcart-winning poem defines the first issue's aesthetic: work that is accessible at first read, but remains fresh and exciting after several," he said.
Seyburn is on the faculty of Cal State Long Beach and has published three award-winning books of poetry.

Issues of the 2009 "Arroyo" are available from the English Department for $8 each, $10 if they need to be mailed. For information, contact the English Department at (510) 885-3151.
DD