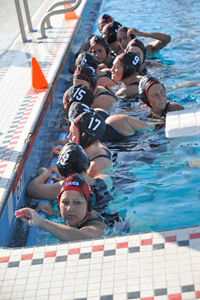 Pioneer women's water polo team
The Pioneer women's water polo team found success last weekend at the Western Water Polo Association (WWPA) Championships, taking fifth place after going 3-1 on the weekend. Cal State East Bay entered the tournament as the No. 3 seed, its highest ever.
Though the Pioneers dropped their opening round game to Colorado State, they bounced back to beat Cal State Monterey Bay, Sonoma State and Santa Clara to record its best-ever finish at the WWPA Championships. Senior utility Jenna Casady capped her career with the game-winning goal, earning a spot on the WWPA All-Tournament Second Team, while junior two meter Liz Warren scored 14 goals over four games to lead the Pioneers.
To read more about Cal State East Bay's trip to the WWPA Championships. For photos and video highlights of the games visit the WWPA Web site.
KH