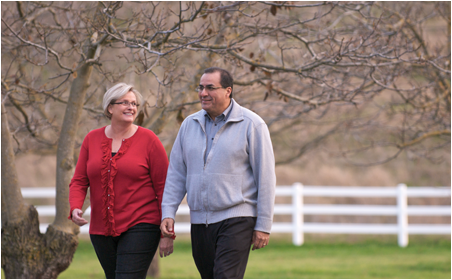 Lou and Kristi Miramontes at their home in the Tassajara Valley north of Pleasanton. by: Stephanie Secrest
Cal State East Bay's Alumnus Lou Miramontes established a new business scholarship and leads the way for the University's first comprehensive fundraising campaign.
Economic affairs have changed for the Bay Area and the world in the four years since Lou Miramontes '76 was named Cal State East Bay Alumnus of the Year. And he has observed the tumultuous times from a front row seat in his position at the global accounting firm KPMG, where he began working after earning his bachelor's degree.
It's easy to focus on the negative, but Miramontes appreciates the cyclical nature of the economy and sees recovery coming.
There will always be a need for well prepared graduates in business, he notes, and so his family has established the Louis and Kristi Miramontes Scholarship Fund to support undergraduates majoring in business administration. At least 60 percent of the scholarship awards will be earmarked for those in the accounting option — Miramontes' own focus.
"More so than ever, students need to be connected to political and economic situations," he says. "They have to look where the opportunities are and ensure their skills match demand."
Read the rest of the article in the spring issue of Cal State East Bay magazine.
KL