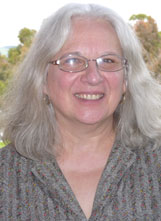 Julia Norton (by: Barry Zepel)
Julia A. Norton, professor emerita in the Department of Statistics and Biostatistics at California State University, East Bay, will be presented with the 2010 Carver Medal from the Institute of Mathematical Statistics Aug. 10 at that organization's annual meeting in Gothenburg, Sweden.
A member of the CSUEB faculty since 1974, Norton was "selected because of contributions to the IMS throughout her career, and especially for her conscientious and pivotal service as IMS treasurer during the period when the IMS Business Office was moved from California to Ohio," said Elyse Gustafson, IMS executive director.
The Hayward resident said she is surprised to be receiving the award.
"I just said yes to all sorts of new ideas that came the way of the institute during my two terms as treasurer," Norton said. "Like most things, the best part of the job is the fantastic teamwork displayed by the staff."
The Carver Medal was established by the IMS in 2002 to honor Harry C. Carver, founding editor of the Annals of Mathematical Statistics and one of the founders of the IMS. The medal recognizes exceptional service specifically to the IMS, and is open to any member of the IMS who has not previously been elected president.
BZ