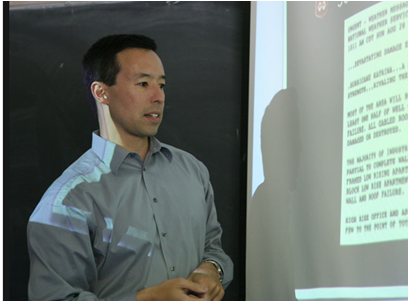 Rob Mayeda
Who better to teach about Bay Area weather than a local weatherman? NBC Meteorologist Rob Mayeda is moonlighting from his day job at KNTV to teach two classes this quarter at Cal State East Bay: "Natural Disasters" and "Weather and the Atmosphere."
Mayeda says his favorite part of teaching is interacting with students and discussing topics important to them. He hopes that students finish the class with a greater appreciation of the Bay Area's unique geology. Students praise Mayeda's lectures for being filled with real news examples. "His lectures are really fluid and vivid," says CSUEB sophomore Frances Anchetta.
Recently a photographer from KNTV visited Mayeda's "Natural Disasters" class at Cal State East Bay and posted a photo essay, "Hurricanes and Volcanoes in East Bay", to the station's Web site.
Mayeda will be teaching "Weather and the Atmosphere" again in the fall for the Earth and environmental sciences department.
KL